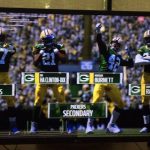 ---
Madden NFL 17 Presentation Screenshot Leaked
Official presentation for Madden NFL 17 was not released yet. Still, the first early screenshot of Madden 17 appeared. It was tweeted by the Green Bay Packers' Damarious Randall.
Leaked photo features the Packers Secondary so we could get an impression how the presentation will look like. However, the picture was later deleted from Damarious Randall account so maybe he was not allowed to tweet the photo.
As the photo doesn't really show much about the game, we expect to hear more official details about Madden 17 to be published soon. So stay tuned!