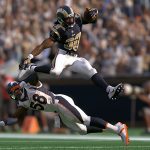 ---
Madden NFL 17: Seven Features to Add to the Game
Madden series have been improving continuously so game fans have high expectations while waiting for every new Madden game to be released. Here we collected 7 features that fans wish to see in Madden 17. Take a look!
1. Functioning draft
The game needs a Functioning draft board that will allow player to pick guys in order it he cannot participate in the draft. That will make the Madden 17 more comfortable.
2. Adjustable AI
Adjustable AI is required in Madden 17. It will eliminate the situation while on the off chance you continue to run the same plays or routes all over again. So adjustable AI players could do something different – jump or cheat towards the run.
3. Comprehensive Superism
Madden 17 should ha a comprehensive Supersim that will make it a text game and in addition to that allows you to be the coach. There are lots of people that do not have great stick skills so that would be really useful. There also should be an option to call plays, set system, making subs and many more.
4. Changing coaching system
Fans mentioned that it would be great if some coaches could turn into a head coach while others need to turn into an assistant mentor for a longer period of time. With such feature in the event you may have an assistant coach bolted up for a few years and lower the possibility that other team might interview him.
5. Adding MyLeague mode to Madden NFL 17
MyLeague mode should be added to Madden 17. It will allow player to modify lots of things starting from programs, games, schedule, cap, ratings and much more.
6. Old players becoming coaches
This feature is easily done and seems very rational to be added in Madden 17. It would be more realistic if former players would become mentor or coaches.
7. Officially licensed stuff for our players
It would be really great if fans could be able to get officially licensed stuff for their players in Madden 17.
Tell us what you think about these features in our comments section.