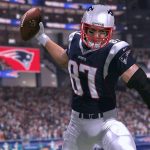 ---
Here's How Madden 17 Cover Athlete Rob Gronkowski Feels About Madden Curse
The cover athlete of Madden NFL 17, New England Patriots tight end Rob Gronkowski has shared his thoughts on the so-called "Madden Curse". Long story short – he is completely calm about it.
Rob Gronkowski expressed his opinions on "Madden Curse" in his interview to Esquire: "I don't believe in the curse. I've never really believed in that type of stuff. And Odell [Beckham] last year, with the year he had. Calvin Johnson beat the receiving record when he was on the cover. Richard Sherman went to the Pro Bowl the year he was on it. So I believe all that's in the way past. Now it's future time."
Not sure if a fantasy or a real thing, Madden Curse had really interesting impact to Madden cover athletes years ago. For instance, in 2009, Troy Polamalu, Madden NFL 10 co-cover athlete, suffered a knee injury that occurred in the second quarter. Another example – 2007 cover star Shaun Alexander experienced a number of injuries that brought him from the NFL's Most Valuable Player to a backup running back.
And it is not the end of the list. Madden NFL 06 cover star Donovan McNabb experienced a season-ending hernia while 2004 cover star Michael Vick suffered from a major leg injury and missed most of the subsequent season.
Back in 2010 information appeared that movie based on the supposed Madden Curse was in development. However, it is still not clear, if it really is.
Rob Gronkowski feels happy and honored to be on the cover of upcoming Madden NFL 17. In his interview to Esquire he named it as a "dream come true."
"And the cover features my 'Gronk spike,' which makes it even cooler that it's my touchdown celebration on it," Rob Gronkowski, Madden 17 cover star, said. "It's a blessing, and to be in that category with so many elite players from Madden covers–it's just awesome."
It was the first time since 2009 that EA Sports decided to pick Madden 17 cover star by themselves. Years before that were picked by a fan vote.
Madden NFL 17 is planned to be released on August 23. It will be launched before the start of 2016-2017 season and will be available for PlayStation 4, Xbox One, PlayStation 3, and Xbox 360.
If you are interested to know more about Madden 17, you can check some more articles on Madden NFL 17: News and Improvements and Madden NFL 17: Special Moves and Defense