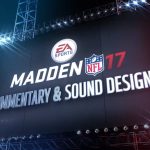 ---
Madden NFL 17: New Era in Game's Commentary
Brandon Gaudin and Charles Davis are two guys that are new commentators of the Madden franchise. After logging seven months' worth voice over studio time these guys sound very self-confident and calm. Brandon Gaudin and Charles Davis certainly know about series' play-by-play legacy but they are also well aware of their resources. Such resources that Jim Nantz and Al Michaels never possessed.
Over the last three years Madden evolved and slowly turned into current console generation. Each new Madden game release fixed long awaited issues and upgraded community-influenced areas. Improvements in the color commentary are huge. EA Sports are releasing these upgrades in Madden NFL 17. The upcoming Madden 17 will have a completely new script which will be bigger than any other that Pat Sumerall has ever read before. This will bring fresh air to the game as finally the decision was made to use experienced, talented voices rather than household names.
Gaudin and Davis shared their working experience and proved us that it is possible to make a career without graduating to a prime time market. For instance, Brandon was a play-by-play voice of Georgia Tech football and basketball. He was also a commentator for the Big 10 Network and Westwood One not long ago. And for Davis, he has been working in this field from 1997. He worked for many employers, starting from NFL Network to Fox Sports. One thing for sure, being in Madden 17 game team is certainly a prime time-level career upgrade.
As Davis said himself, they are okay being no names as long as they have an opportunity to work on the Madden series, "Brandon and I are well aware our names don't resonate but people who play Madden care more about the game itself. Our goal is definitely to enhance, but hopefully not detract from their joy of the game with our broadcast commentary. It'll take time and we hope that over time they'll like what they hear or at the very least, we don't turn them off. We're happy being no names as long as we get to continue working on this series."
EA Sports made a good move hiring these guys as a Madden broadcast duo as finally "Gaudin and Davis" could become equivalent to "Madden NFL". As Madden producer Christian McLeod told us, these guys are contracted for more than this year's Madden 17 game. However, he did not indicate specifically for how long.
Gaudin and Davis are overwhelmed to be a part of Madden 17 team as they understand that this is a perfect twist in their careers. It is understandable how significant for both of them is to be called up by EA Sports to join Madden NFL 17. David told us about it, "When you get a chance to audition for a game like Madden, someone with my background is just honored to be asked. But once you get involved in it, you really want to keep doing it, especially after working with Brandon."
The duo of Gaudin and Davis shares some kind of modesty and confidence that makes their team so special. As Gaudin told, "I was familiar with Davis' work from college to the NFL. He's done it on the highest level. There's not one negative thing you're going to hear about the guy on or off the air." Davis also feels fortunate to have such colleague as Gaudin, "It was chemistry from day one partly because of the great fortune we both felt for this opportunity. Now we're more than colleagues. We're close friends who check in on each other."
Madden NFL 17 may be one of the most newcomer-friendly installments in Madden series. As EA team comments, they wanted to make Madden 17 understandable for users who aren't familiar with Madden but may know certain teams or players. So they could know that Odell Beckham Jr. is the one who made one-handed catch famous but they probably are not aware of the fact that he is an exceptional short route runner.
"Charles explains the concepts of football, how individual players play, and how they're utilized. And Brandon's expected to fill in nuggets here and there, when he's not leading the play-by-play. He brings in his own trivia, like how Von Miller not only owns a chicken farm but also majored in poultry management. It's key to have both of them in the studio at the same time to capture the natural back and forth banter."
We asked Gaudin about the day-to-day challenges they meet while working in the studio. Gaudin explained that there is no room for tiredness when you do what you love, "We feel very lucky doing this and when you're going into a studio to just talk about football, it's hard to complain. What also keeps it fresh is that every day you're recording something new, whether it's safeties, failed two-point conversions, or successful two-point conversions.
EA's given us the opportunity to talk about way more than what commentators have gone over in previous years. That includes more shared time in the studio. That leads to a lot of depth and variety. That keeps things fresh for the player day in, day out. At the end of a five-hour recording session we will get tired, but the bottom line is that when Charles and I go into the studio, we're given a fresh new script every day. We're grateful and fortunate."
Madden NFL 17 will be released on September 23. It will be available for PlayStation 4, Xbox One, PlayStation 3, and Xbox 360.
While waiting for the big day, you can check some useful information on what is new and improved in Madden 17; Madden 17's Special Moves and Defensive Improvements; Madden NFL 17 Cover Star Rob Gronkowski on Madden Curse.