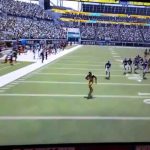 ---
This Madden 17 Glitch Makes No Sense at All
EA's Madden NFL 17 launched last month behind a generally strong positive critical reception. But the professional football game has not been without its glitches. Now comes another video that shows something that could only happen on a virtual football field.
The Houseofhighlights Instagram video below (via Uproxx) shows off a glitch where Giants QB Eli Manning deliver a pass over the middle. Everything goes to plan at the start. But when the ball touches the receiver's hands, it bounces backwards more than 20 yards, leading to an easy, bewildering pick-six for the Jaguars' defense. Watch the video as many times as you want; it never makes any sense. There is no word on what caused this glitch, but who cares when the end result is this hilarious.
Glitches in Madden games are nothing new and are considered by some to be part of the franchise's appeal. It would be maddening if a glitch like this one happened to you, but you'd probably laugh, too.
You can check out this post to see other Madden NFL 17 glitches, including one where a field goal attempt led to an instant, erroneous touchdown for the other team.
Madden NFL 17 received a score of 8 in review. "If EA Tiburon's goal with Madden 17 was to build upon the solid foundation set by the last two iterations, the studio mostly succeeded by fine tuning its production values on and off the field while also focusing on its strengths in its Ultimate Team and Franchise," reviewer Miguel Concepcion said.