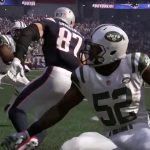 ---
Madden 17: Rob Gronkowski as a Cover Athlete (+First Gameplay)
Rob Gronkowski, who is playing for the New England Patriots, was selected to be a cover athlete for Madden NFL 17. It was announced by EA Sports on SportsCenter.
Gronkowski is a well-known NFL athlete. He was a member of the Super Bowl XLIX-winning Patriots and was also named to multiple Pro Bowl teams. Rob Gronkowski is known for his fun-loving personality as well. He is also into product endorsements as we all could remember this foolish promotional video he did for Halo 5: Guardians last year. Gronkowski recently was featured on the cover of GQ this month with model Hailey Clauson and will be the first tight end to be selected as a Madden cover star.
EA Sports also surprised NFL game fans with the first trailer for the upcoming Madden NFL 17. You can watch this trailer here. The trailer mixes real world with game engine footage and shows Gronkowski jumping over defenders.
It is the first time when EA Sports decided to choose Madden cover star themselves. You may be interested to know why (since 2009) EA Sports decided not to use fan votes? The representative from EA team gave us an interesting answer: "With this election year upon us, we don't want you to lose sleep over another big decision. So, we decided to take the pressure off this year and hand-select someone for the job."
However, it is not the first time when Gronkowski competed to be on the Madden game cover. Hel almost won to be on the cover of Madden NFL 16 but he ended up losing in the final voting round to New York Giants wide receiver Odell Beckham Jr.
Xbox.com product page for Madden NFL 17 showed Gronkowski and other NFL standouts: Von Miller and Antonio Brown.
It is also known that there will be at least three versions of Madden 17: the Standard version ($60), Deluxe edition (for $80) and Super Deluxe edition (costing already $100). Premium editions of Madden NFL 17 include additional goods like various Ultimate Team items and one-month membership to EA Access.
Madden NFL 17 will be released before the start of the 2016-2017 season, on August 23. It will be available for PlayStation 3 and PlayStation 4, Xbox 360 and Xbox One.