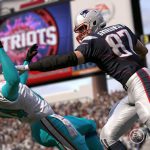 ---
Madden 17: News and Improvements
Madden NFL 17 game team recently announced its cover star and more information about new improvements and changes in its gameplay.
Improvements in recent Madden entries tended to have one main focus, for example, defense. But EA announced that Madden NFL 15 will have different strategy and will be focusing on three phases of the game: offense, defense and special teams. These changes will apply on Xbox One and PS4 while Xbox 360 and PS3 versions may not have the same upgrades.
As EA wrote in a blog post, on offense players will have access to upgraded ball carries controls and more effective gameplay: "We've added a tiered system to the types of special moves different players are able to pull off–depending on their attributes, ratings, and speed. So now, expect your bigger bruising backs to be more effective with truck moves and stiff arms, while smaller, shiftier backs have more effective jukes and spins."
These new improvements will add more complexity to the game so EA is including new on-screen prompts that will educate players how to use new moves. Moreover, new Path Assist option is added to Madden 17. This new feature will give tips on where to move. Lower difficulty levels of the upcoming Madden NFL 17 will have less control of players and will let the game choose what specific moves are the best for that moment.
Moreover, players will have gap tasks on run plays in Madden NFL 17. These are expected to help players to cover runners better. There will also be "force defenders" who will attempt to pull ball carriers near the sidelines into the center of the field. Zone coverage has also been upgraded and there will be 8 new types of zone plays that are completely new to Madden games.
As EA introduced new zone coverages in Madden 17: "Defenders have more awareness of threats to each zone and can pattern match receivers, creating defensive counters to stop virtually every passing concept. It's our most realistic AI to date and it's across the entire field."
EA also announced new kick meter that "is designed to increase the challenge of the kicking game like we see in today's NFL." Madden 17 will also have new ways for players to ice the kicker together with the new trick plays and a fresh block kick mechanic. These upgrades are expected to "add new elements to the risk and reward of special teams."
An overview appeared on the official Madden NFL website. It contains some information about new features, improved franchise mode, new daily content and completely new angle for playing Madden NFL 17. Madden 17 is planned to be released on August 23. Rob Gronkowski from The Patriots was chosen as the game's cover star for the upcoming Madden NFL 17.