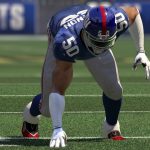 ---
Madden NFL 17 Wishlist
Madden is a great game. And no one is going to argue about it. However, as in every game, there are some things that need to be improved. Here we share 3 features that could be added to the Madden NFL 17 to make it even more exciting.
1. Improved Draft Mode
It would be really cool if an auto functioning draft mode would be added to the game. This mode will allow players to save some time while paying Madden NFL 17. For instance, if player cannot participate in exercising, this new auto functioning mode can craft the player on the basis of our directions.
2. Introducing Player Morale System
EA Sports could add some preseason upgrades to raise the self-confidence of players and introduce rookies. It would be really useful if we could vary draft player ratings before his first match in Madden NFL 17.
3. Connected Franchisee Mode
Franchisee mode is great. But EA Sports could make it more connected and bring back combine drills. In Madden 17 they could give an option to design entire stadium, introduce assistant coaches, suspensions for players and much more.
What do you think about these features? Tell us your opinion in comments below.